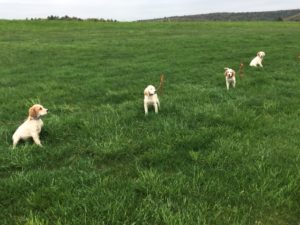 On January 24 Straight Forward whelped two males and two female pup sired by 5X Ch. Pennstar.  This was a frozen semen litter.  This is our first venture with frozen semen and we are excited with the looks of the pups to date.
"Roxy" and "Bek", the females, along with "Fed" and "Man" are now 3 months old and we've got them going regularly in the field where they are chasing and pointing butterflies, moths, bugs and most anything that moves.  They like to get staked out and then get worked individually on fun thing like learning to come, pointing pigeons in a sock and standing on the board/barrel.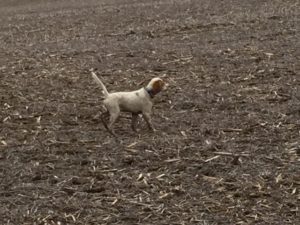 As with all our matings, we have high hopes for the pups.  This is especially so this time around as the mom, Straight Forward, has now won the Seminatore Award (top setter all-age, cover dog) 3 times.  No other dog has done this and she clearly ranks her as the best female in our 36 year partnership.   The sire, Pennstar, is arguably, along with his son Full Blast, our best male dog to date.  Pennstar's 5 championship performances on wild birds stands our in our minds and his production record (30-74-449) to date certainly ranks him among the all-time best coverdog producers.
So, the stage is set genetically.  Now time, work and the individual developmental paths the pups take will determine if they can help cover dog setters take another step forward.