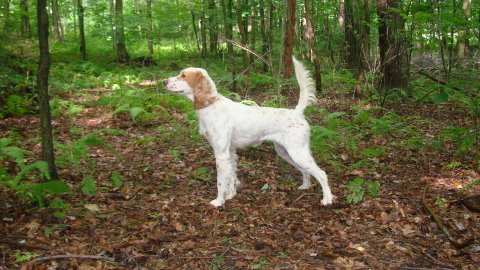 Ch.  Straight Forward
Ch. Straight Forward (female, birth date 03/01/09)  has been having a banner all-age career which is a natural extension of the success she had even as a juvenile performer.
Winning the Pennsylvania Grouse Championship and then nailing down the coveted Grand National Grouse and Woodcock Invitational Championship in Michigan were highlights of "Cracker's" 2012 season.  Cracker was handled in all her Championship wins by pro Dave Hughes.  Throughout her early development with the Brenneman's, Cracker was often handled by Helen–a testament to Helen's dog handling skills and Cracker's bidability.
At the Pennsylvania Grouse Championship,  "Cracker" ran one of the best hunting efforts we have ever witnessed.  Fast, snappy, driving forward, smooth, strong, powerful and well-patterned are adjectives that fit her hunting that day and her grouse find was expertly handled.
Winning the three-day Invitational showed "Cracker's" strength, endurance and powerful running in addition to handling half a dozen grouse and woodcock finds to perfection over the course of the event.  On the final day she came out charging and in a sleet storm astounded the gallery with her determination and ability to handle adverse conditions–including swimming out of a frozen pond after falling through the ice.  No matter, she went on as if nothing had happened.  Additionally Cracker was RU Ch. at the Northern New England Woodcock Championship in Maine.  Championship wins in all the various regions of the cover dog circuit are to her credit and speaks well for a relatively young dog.
By the end of the 2012 season, Cracker had amassed more points in cover dog stakes than any other dog in competition that year.  For her accomplishments she received the Seminatore Award–top setter all-age dog.  Additionally, she received the Foster Award as the top cover dog all-age performer–irrespective of breed.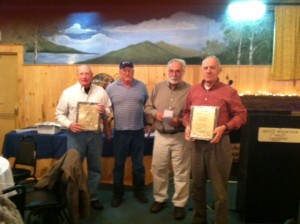 In 2013, Cracker added a Runner-Up Champion in the New York Grouse Championship to her credit.
Right from the start Cracker stood out as a pup with potential.  She placed in her first trial, an open derby stake at 7 months of age.  Later she won the Venango Puppy Classic–the foremost puppy stake in the east.  As a derby she scored a number of nice wins and was runner-up in the Flanagan Award competition.
Now at age 4, Cracker is still a young dog.  Her accomplishments to date are going to be tough to match.  We continue to have expectations that she can add to her illustrious record.
BREEDING:
Cracker's sire is Ch. Keystone Red Rage (10-12-65).  "Mickey" is owned by  Craig Peters recently relocated to Wisconsin.   We admired Mickey as he performed on the grouse circuit with Craig always at the helm.  Generally he was a handful with strong drive and desire.  We were impressed with his athleticism and eye-appeal in motion.  He was a bull on his birds.  These are the traits that we have been drawn to over the decades and they were the basis for choosing to breed to him.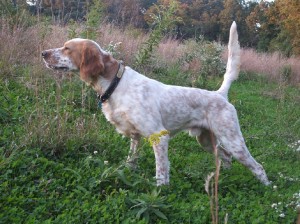 Mickey comes from a bird dog sire that also impressed us, Ch. Chip's Torquato (14-13-106).  "Torque" too was a powerful dog on the ground who ran with strength, determination and class.  He was breathtaking, very intense, on point.  In fact, we bred Pennstar's sister, First Option, to Torque earlier, but a small litter didn't produce winners.  Still we liked Torque's characteristics and when we bred to Torque's son we hit pay dirt.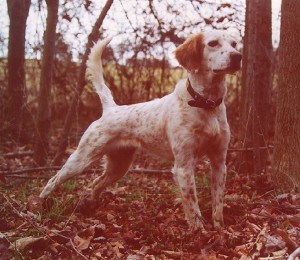 Keystone Red Rage's dam is Craig Peter's Ch. Keystone Red Ryder.  "Lacey" won 23 times over the course of a long career and is the dam of 11 winners including Champions.
Quixstar, the dam of Straight Forward, was campaigned as a young dog and she won the International Cover Dog Puppy Classic and the New Hampshire Amateur Puppy Classic.  "Riggs" was an extreme stylist both running and on point.  We chose not to campaign her and put her with my hunting pal, Jim Smythe of Lititz, PA.   We joined Jim on a number of hunts with her over the years.  On one trip to North Dakota, Riggs left an indelible impression as she outperformed–out-hunted, out-ran and out-pointed all the dogs who made the trip, including some famous Champions.  That clinched it and we bred her to Mickey.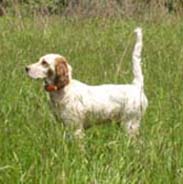 Quixstar's sire is 5X  Ch. Pennstar (30-74-310).  Pennstar is known for producing fast, snappy, hard hunters who find and handle wild birds.  The dam of Quixstar is Barnburner.  She was sired by our Grand National Grouse Ch. Body Guard ex Gretna Crest Dahlia (by Grouse Ridge Reroy).  Barnburner when bred to Pennstar produced eight cover dog winners who, along with Riggs, included Ch. Yarrah.
For More Information:Pedigree