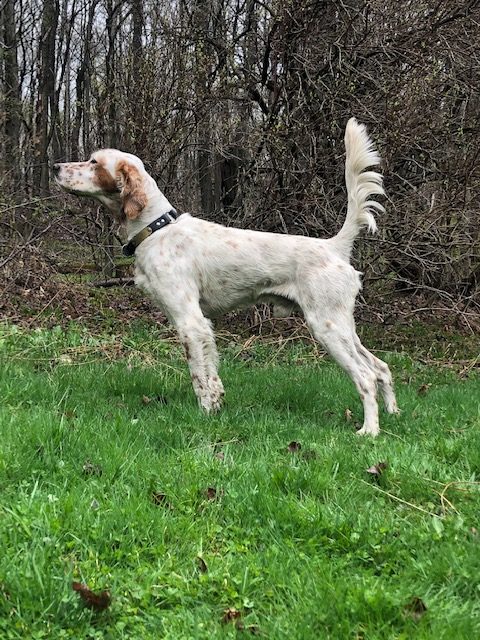 Super Storm, male, owned by Thor and Bob was conceived by frozen semen. He was then whelped during a winter storm in 2017, which the weatherman labeled a super storm. Super Storm's pedigree brings together perhaps the two greatest dogs that Coverdog Setters (Bob and Dick) have ever produced/owned in their 38-year old partnership, 5x Ch. Pennstar and 9xRU/Ch Straight Forward. The convergence of these two dog's genes with their extreme positive traits is in itself a super storm of great setter blood; hence the registered name, Super Storm.
At an early age, "Fed" (think all-time great tennis player) demonstrated the full range of qualities we look for in a great prospect–speed, desire, running style, pointing style and an above average nose. "Fed's" most outstanding quality is his composure around birds. As a pup he would stand his birds for minutes at a time, usually letting the handler flush before chasing with enthusiasm. "Fed" spent his early days with Bob, running in the dog pasture, hunting across the farm's meadows, pointing and chasing pheasants and just being a pup. His first winter, "Fed" went to Texas with Dick where he learned to hunt tough cover and that wild quail required him to be extra respectful around birds. Returning from Texas, Thor took over his training and ran him on good numbers of migrating woodcock. Although puppy stakes are not a high priority, His 2nd at the Grand National Puppy Classic in the spring of 2018 confirmed that he had the goods in a public way. At this point, Thor started the process of steadying
"Fed". With "Fed's" natural desire to want to naturally stand birds, the process was smoothly and with relative ease. As a fall derby, "Fed" tripped to Michigan and at the Chester Halley Memorial Derby Classic, he demonstrated his hunting prowess with a strong, hard going, hunting effort coupled with two finished woodcock finds. to earn 2nd place. Having just turned all-age and with literally hundreds of finished wild bird finds under his belt, "Fed" was given a shot at the Pennsylvania Grouse Championship. His hard driving, objectives-focused hour found him still reaching forward with determination and running eagerly with great eye appeal at the 60 minute mark. His effort was regarded as among the best handful of performances and augers well for the future we expect him to have.
Even at his young age some breeders have sought out "Fed" for mating. All his pups are still less than a year old, but have several trial puppy placements as well as 2nd in a derby stake. They seem to have many of "Fed's" traits–straight tails, intensity on point, composure around game and hunting desire. We have witnessed finished bird work on some–they take training well, just like the old man.
We continue to refine "Fed's" skills and we share high hopes for his future both a competitor and as a sire.