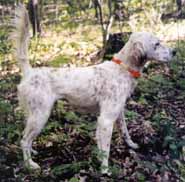 5 x Ch. Pennstar
30-74-412
5x Ch.Pennstar (1513823, male, 2/18/00) died in late 2012.  His frozen semen is available to breeders.
Looking back historically at "Rock's" competitive career a highlight would be when Rock won the prestigious 2007 Pennsylvania Grouse Championship with professional Dave Hughes at the helm.  With this win Rock joined a select few male English setters in history who have won five championships on wild birds. There were 82 dogs entered in this competition.  Previously in the spring of 2007 Rock added his fourth Championship win by eclipsing a field of 71 entrants to win the Ontario Grouse Championship held at The Barrens, State College, PA. This was a successful defense of his '06 Championship win at the Ontario vs. 62 other bird dogs.  Rock has won Championships in a variety of venues, including the International Amateur Woodcock Championship in Canada and the 2005 Michigan Woodcock Championship (61 entrants) which featured both grouse and woodcock finds.
Earlier Rock evidenced his versatilty by winning both the Pennsylvania Walking Shooting Dog Association "Open Derby of the Year" and followed this with the  "Open Walking Shooting Dog of the Year" for his accomplishments in open field quail trials.
As a producer, Pennstar has established himself as a consistent and exciting source of hard driving, hard hunting cover dogs who are attractive in motion and on point.  His offspring generally have the personality and instincts to develop early around game.  They like to stand staunch on birds.  Proof of this is found in the number and quality of wins recorded by his pups.  Pennstar pups have won:
Cover Dog (Grouse) and Quail Shooting Dog Championships in a variety of venues.
2005, 2006, 2008 and 2012 Flanagan Award (top cover dog derby).
1st Grand National Grouse Futurity on three separate occasions
2nd Grand National Grouse Futurity on two separate occasions.
Over 35 placements in Cover Dog Classics
9 First Places in Cover Dog Classics
State and Regional Puppy, Derby and Cover Dog of the Year Awards
Currently Rock's production record shows him as the sire of 74 winners who have scored over 412 field trial wins.
Rock's breeding reflects the strategy that we have been able to establish and rely upon to consistently produce quality cover dogs. Three sides of his pedigree track to Ghost Train. This is achieved by line breeding to two of Wire's best female offspring, Ch. Star's Misty Ghost and Liberty Express Wire. The third line that tracks to Ghost Train is achieved through Grand National Ch. Northern Alibi and then Ch. Ghost Train's Delight, a direct son of Ghost Train.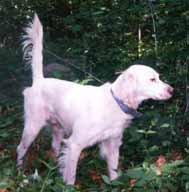 RU Ch. Super Ghost, 25X winner, known as a stylist on birds.
Rock's sire RU Ch. Super Ghost was named Pennsylvania Walking Amateur Shooting Dog of the Year, 2001.  He was Runner-up in the 1999 Northeastern Grouse Championship. Classy, hard running and deadly on game, Super Ghost brings together classic Pennsylvania grouse dogs with his sire being Super B, a winner of the Grouse Futurity. Super B is the only dog to win the triple crown of cover dog puppy stakes scoring first in the Venango Puppy Classic, the Michigan Puppy Classic and the Grand National Grouse Puppy Classic.
Super Ghost's dam, Star's Misty Ghost, won the Pennsylvania Grouse Championship and was Runner-up in the Grand National Grouse Championship. You can see Misty's sparkle in Rock and his littermates.  Rob Frame of Manheim, PA owned both Misty and Super Ghost.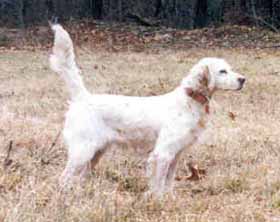 2X Ch. Northern Anndee received four invitations to Grand National Grouse and Woodcock Championship
2X Ch. Northern Anndee is the dam of Rock. Anndee, now living in Japan, was a consistent winning cover dog who received four invitations to the Grouse and Woodcock Invitational. She was among the top cover dog setters of the last half of the decade of the '90s. Anndee is a littermate to Body Guard and she is among the very best dogs we have owned. We are pleased that Rock is available to carry on her genes. Not only did Anndee's brother, Body Guard, win the Grand National Grouse Championship but Anndee's sire, Northern Alibi, also won the Grand National Grouse Championship. Alibi's parents, Ghost Train Delight and The Class Train were exceedingly capable and durable dogs who were competing as cover dogs when they were ten years old. Northern Anndee's dam, Liberty Express Wire, was a hard driving, classy dog who in addition to her recorded wins was the first callback in the Grouse Futurity—an indication of her natural ability. Her sire, Wire was the first grouse dog that we owned as partners. Wire was Pennsylvania Grouse Dog of the Year, '84, and his progeny have over 300 placements. Meteor's Express Train is a daughter of PA Grouse Ch. Sam L's Meteor, he a full brother to Wire's dam, 3X Ch. Ghost's Star. Both Meteor and Star were sired by Ghost Train.
Notice the number of wins and the producing record of the dogs in the first, second and third generation of Rock's pedigree. These are virtually 100% cover dog wins and winners. Rock's breeding is rock solid and impressive.
The dogs in Pennstar's pedigree were not only winners and producers of note, they were exciting dogs. There is nothing ordinary about them. Their performances were a thrill for handlers, judges and the gallery. Pennstar too has shown himself to be a thrilling dog.
STUD SERVICE:
Pennstar is available at stud.  Frozen semen at private treaty.
Click on breeding arrangements and directions to the kennels for breeding details.
For More Information: