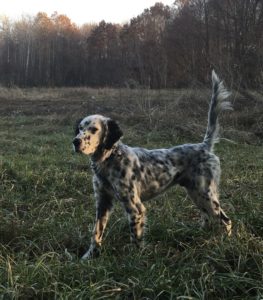 At the Setter Awards banquet held November 5, 2018, in the town social hall, Marienville, PA, our young setter, Game Winner, officially received recognition for being the top English Setter Cover
Dog Derby for 2017-2018.  "Finn" earned this prestigious award named after the founder of Grouse Ridge Kennels, Dr. James Flanagan, by winning 1sts in a series of important cover dog open derby  trials.  These wins included the Nittany Valley Open Derby, the Venango Grouse Trial Club Open Derby, the Pennsylvania Grouse Trial Club Open Derby.  The topper to "Finn's" skein of wins was going to Michigan and grabbing 1st in the 73rd Grouse Futurity.  In this event, "Finn" demonstrated again his remarkable speed, drive and hard cracking running style.  He is breathtaking to watch hunt!  Point was called and "Finn" had a grouse pointed with straight up style and his training held as he was steady-to-wing-and-shot on this find to clinch 1st.
The Flanagan Award recognition means a lot to us.  We have been fortunate enough to win the Flanagan Award 4 times.  Our setter winners in historical order are:   Topseed, 2000-20001;  Full Tilt, 2005-2006;  Full Blast, 2011-2012; and now–Game Winner, 2017-2018.