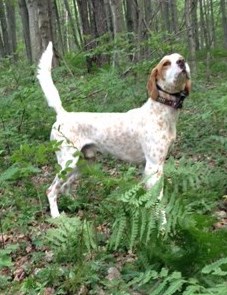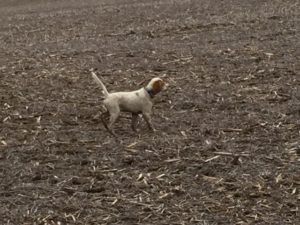 In the first trial of the spring at the Nittany Valley Grouse Trial, our
dogs took 1st place in each of the three stakes each of which featured a large entry.
Ch. Blast Zone, our all-age male, ran a strong hunting hour over "The Barrens" course known for its heavy cover.  "Strike" was eye-catching with his athletic gait and cracking tail as he made a series of forward casts, handling naturally for Thor Kain who guided him to this placement over a quality 27 dog field.  His reward was a perfectly handled grouse find at the 28 mark.  Thor has been working with "Strike" since the dogs returned from their winter jaunt to Texas with Dick where "Strike" displayed more of this remarkable bird finding.  Quail were hard to point this year as the conditions in TX are marked by a severe drought.  Scenting is more than difficult, but "Strike" is more than up to it.  Dick used him as the lead dog on a number of hunts and he produced for the gamebag–hunters shot quail out of the coveys "Strike" pointed as well as the near scentless singles he was so adept as nailiing down.  He's amazed us with his ability to find and handle all the wild bird species since he was a puppy…..never seen anything like it!
In the Nittany Open Derby, female Full Breeze bested a field that featured many winners.  "Bree" went about her business by consistently driving in a mature pattern.  She's a strongly built female and even so, she's a pretty dog on the move.  And move she did with speed and determination to a strong finish.  She was steady-to-wing and shot on her birdwork.  "Bree" is sired by Ch. Keystone Red Rage ex our Grand National Grouse and Woodcock Invitational Ch. and 3x Seminatore Award winner, Straight Forward.
The Nittany Open Puppy featured 27 up-and-coming youngsters.  Emerging victorous among this group of prospects was our female, Deciding Point.  "Bek", who gets her name from an Australian nickname for Rebecca, ran a thrilling 20 minutes.  "Bek" clearly benefited from the Texas quail hunting trip as well as the consistent work that Thor Kain, who handled her to this win, put into her last fall and this spring on his training ground's woodcock and grouse.  She attacked the mixed cover on the course with drive, speed and application.  Swinging from 10 o'clock to 2 o'clock, her pattern was ideal.  We have always focused on having a classy dog that makes you want to watch them hunt.  "Bek" personifies this class standard we have sought.  "Bek" is from the frozen semen mating of our 5x wild bird Ch. Pennstar to our Grand National Grouse and Woodcock Ch. and 3x Seminatore Award winner, Straight Forward.  All the energy and expense that went into making what we feel is an 'ultimate breeding' has paid off.