Following Blast Zone's championship wins of the National Amateur Grouse Championship, the New York Grouse Championship and the Pennsylvania Grouse Championship, breeders began to mate their females to him.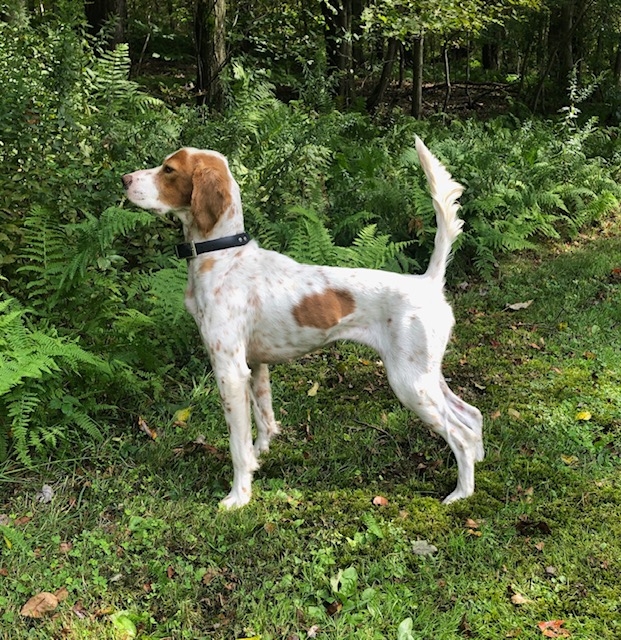 While most all of "Strike's" pups were whelped in 2019 and are therefore quite young, we recognized "Strike's" remarkable qualities and mated Straight Forward to him two year ago. Power Forward, female, (Blast Zone ex Straight Forward), won at the first three shooting dog stakes in which she was entered this fall. This included winning the Nittany Valley Grouse Trial All-Age with a strong race and a woodcock find. "Abby" has shown us that she has the same knack as her sire in that she can really find birds and when she does find them, she is riveted to that spot until you find her and flush. She did this scores of times on wild birds at less than a year of age–just like "Strike".
Other pups that we have had from Blast Zone were born in 2019.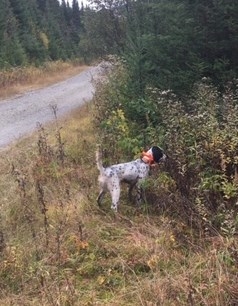 "Boone", male, owned by Bradley Roth of New Hampshire is pictured pointing a grouse. She's from a litter sired by Strike Zone ex Bridge Water Remi. Others in this litter mentioned below demonstrate the consistency in conformation (leggy, high headed, cracky, smooth-gaited, bold) found in this litter. Brad has been working his pup consistently and with enthusiasm. He reports that "Boone" is not only sticking his wild birds but hunting with drive and already shows a knack for finding game.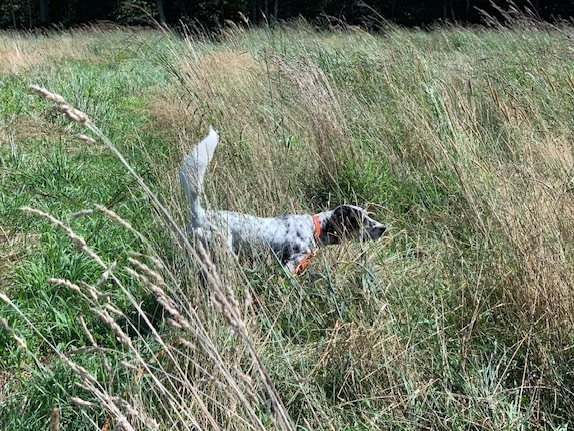 "Lila" (Blast Zone ex Claremont Lucky Brynn) is from the litter owned by Rick Simpson of DuBois, PA. She's obviously a big strong female who showed an early desire to go out and find birds. She didn't check back constantly as pups generally do until they build up their confidence. "Lila" pointed scores of pheasants and quail raised on our surrogator and released on our CREP grounds here at the farm. Bold, powerful, happy. breathtaking on point and wanting to please are her distinguishing traits.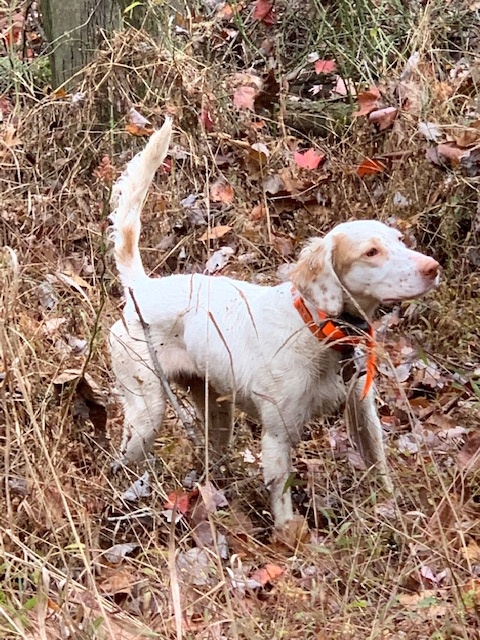 Super Storm Liz came to us in early fall from Jeremy Avery. Jeremy bred his daughter of Long Gone Boston, Bridge Water Mtn Pemi to Blast Zone and had February 2019 pups. "Liz" showed tremendous potential for him and he wanted her to have a shot at the big time. Given time limitations on Jeremy's part, he felt she'd have a better opportunity with us. We bought her after seeing a video of her running and pointing. Very few setters are as classy moving as "Liz". It's exciting to see her in action. It's fun to run her every time. "Liz" has gained a lot of confidence over the last couple of months as she now goes immediately to work hunting for pheasants, chukar and quail on our CREP grounds and on nearby farms where we release birds over the fall. She's been pointing birds with a poker straight tail and intensity–letting us come 100 yards+ to flush on many of her points. Liz won 2nd in the puppy stake at the only trial she entered, the West Branch Amateur Puppy, October 2019.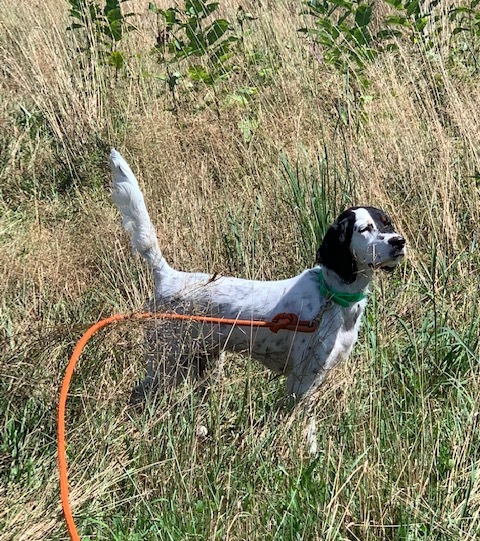 Super Storm Nell, also from Jeremy Avery's litter, was the pup we originally picked. "Nell" continues to impress us with her drive, desire to find game and her good looks running and on point. She's begun to really reach out to objectives in search of birds. In a stint with Thor, her co-owner, Nell has developed at an accelerated pace in pointing woodcock and grouse. She pointed solidly the first grouse she came across–all be it in an open woods. "Nell" is a sweetheart when it comes to teaching her during yard work sessions. She, like her sister "Liz", loves to pose on the board, barrel or tailgate.