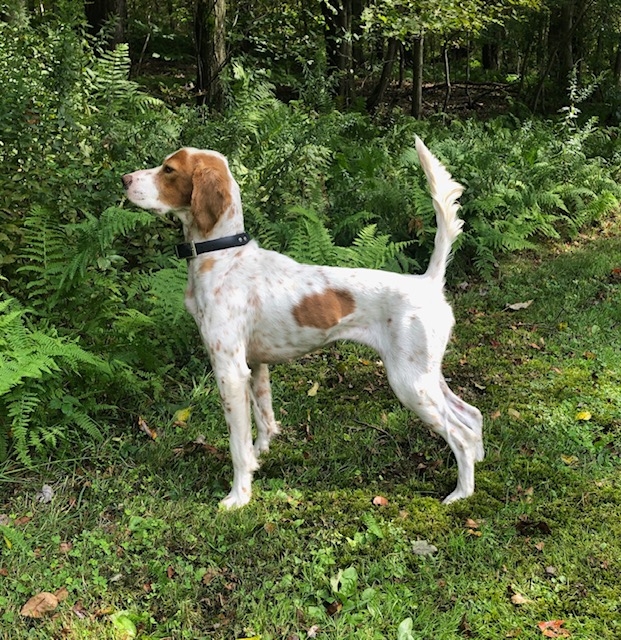 Power Forward, our 'just-turned- two' daughter of Blast Zone, went to her second shooting dog stake at the Sandy Valley Bird Dog Club on September 14 and came away with her second win at this level. Pitted against 20 other pointers and setters, "Abby" placed 2nd place in the Amateur Shooting Dog stake.
It was a perfect day at the new Sandy Valley Bird Dog Club's first trial held over the Freeland Kennel Club grounds in eastern PA. Freeland has hosted bird dog competitions for well over 50 years. Bob won some of his first placements at Freeland fifty years ago this year. Today the grounds are groomed for bird dogs and they have never been so attractive and enjoyable for showing a hunting bird dog.
"Abby" broke away near the refurbished club house. Flying in the excitement of being turned loose, she reached out running along the tree lined fields. At the first turn we found her ahead pointing into the wooded edge. Birds were flown with "Abby" steady. Through the switchgrass and mowed strips of broomgrass she powered ahead. As the course went through a stretch with thick cover the judge warned handler, Thor Kain, that there were three quail sitting in the middle of the gravel path ahead. Just then "Abby" emerged from the cover and started down the path, slammed onto point and the birds made their escape without much flushing effort. "Abby" stood like a rock. In the last field below the clubhouse, "Abby" stood tall well 100 yards ahead looking into the field edge. Thor showed confidence in her as he walked at a normal hunting pace to her stand. Birds were flushed and from here "Abby" made the turn to home and finished still energetic and cracking ahead.
We're excited with the strong start "Abby" has made to her shooting dog career. We're looking forward to the rest of the fall campaign.