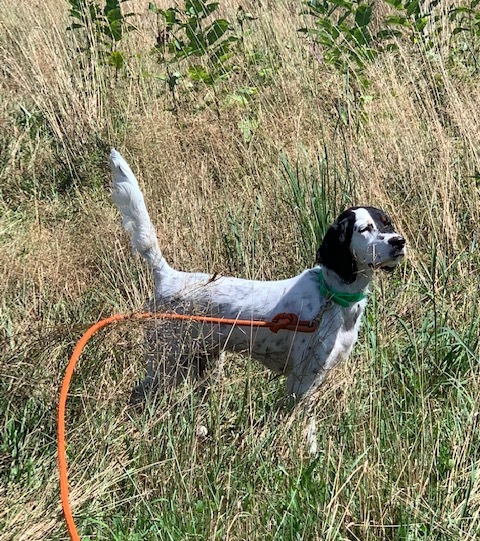 While we have not bred a litter for a couple of years, we continue to develop pups who come to us as 'stud fee' pups. Currently we are working with two youngsters born in 2019.
# 1. Lila, sired by Blast Zone ex Rick Simpson's female, is a big strong female. She is powerful on the ground. She runs hard, likes to roll, and while she casts to distant objectives, she manages to stay to the front naturally. Lila is serious about her hunting as noted by the fact that she doesn't feel the need to come in and touch base with her handler as many pups tend to do. She swings by at 20 yards and keeps going with her mind on game finding. Lila's been pointing wild (mostly woodcock) and released birds consistently. Her pointing style is straight up. Lila's bold personality makes her a good one to work with. She wants to please.
#2. Nell, sired by Blast Zone ex Jeremy Avery's female, is a lithe female youngster whose athleticism is apparent when you see her get over the ground smoothly and gracefully. She's younger than Lila and is just now starting to reach out. Always staying busy, Nell, is very cracky in motion–eye-catching on the move. She is a calm dog and likes to be worked on the board. Nell wants to please and her trainability is obvious when you get your hands on her. From her picture you can see that she looks heartstopping on point. Tail straight as an arrow every time.
Throughout the fall, we will hunt both these females. At the moment both are on track to be winners and with more time and training we will see if they are of championship caliber.