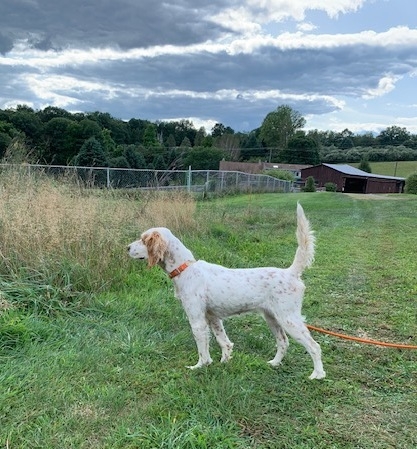 Grand National Grouse and Woodcock Invitational Champion Straight Forward, ("Cracker") is retired but she still loves to point birds and looks great doing it. Now ten years old, she's enjoying retirement at Bob's kennel. She has an acre to run in and is joined each morning by her kennelmate, Grand National Grouse Ch. Full Tilt ("Callie"). "Callie", now 15+, is in the house overnight. Each morning she can't wait to get out with the other dogs. "Cracker" is still spry enough that she gets roaded with the younger dogs. Just as earlier in her life, "Cracker" is a hard worker in the harness and pulls and drives throughout the workout.
Meanwhile, "Cracker's" pups from the three litters she whelped continue to compete in the best of competition. Multiple winners Full Breeze (sired by Full Blast), Deciding Point and Super Storm (sired by Pennstar) and Power Forward (sired by Blast Zone) are all out of Straight Forward and all have been in competition this fall. Power Forward, the youngest of her offspring turned 2 years old this month and was 2nd at the DuBois FTC, Open Shooting Dog, 36 entries. 8/19).
Many regard "Cracker" as the best female that Dick and Bob owned in their 38-year partnership. It's very satisfying to continue to build the breed on her genes and instincts.