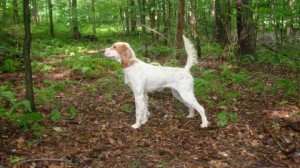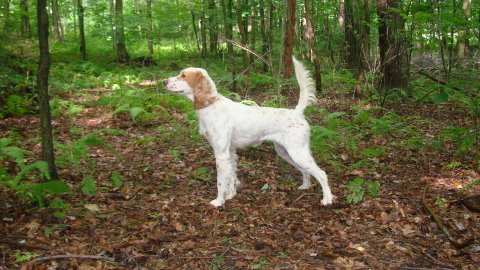 3-TIME WINNER OF THE SEMINATORE AWARD
Regarded as one of the all-time great performing setters, Straight Forward has retired.  From the fall of 2009 through the spring of 2018, "Cracker" scored 29 wins including 9 Championship placements.  A highlight of "Cracker's" career was her win of the Grand National Grouse and Woodcock Championship in 2013 at Gladwin, MI.  Her 4-find performance on Day 1 stands out as a classic performance in the history of that event.  Pro Dave Hughes trained and handled "Cracker" throughout her championship career.
"Cracker's" championship wins were earned across the coverdog geographic spectrum and include the Northern New England Grouse Ch., the NY Grouse Ch., the PA Grouse Ch., the New England Grouse Ch. and the MI Woodcock Ch.  "Cracker" earned her reputation as a versatile dog whose strength was bird-finding coupled with incredible determination in hunting.
"Cracker's" consistent, high level winning garnered her the top English setter cover dog award, the Mike Seminatore Award, three times.  No dog has surpassed this record of hers.  Her consistency was typified in the fall of 2016 when she was in the championship circle at the New England Grouse, NY Grouse, MI Woodcock and PA Grouse in consecutive starts.  No one can recall another coverdog scoring this many grouse/woodcock championship placements consecutively.
With all this campaigning, it was hard to fit in any litters and when we did get her bred, the litters were relatively small.  She was bred first to Grand National Grouse Ch. Full Blast and in that litter Full Breeze emerged and went on to win among her placements, the Grand National Grouse Puppy Classic in the spring of 2017.  5X wild bird Champion Pennstar sired "Cracker's" second litter using frozen semen.   Super Storm (Thor Kain, owner) and Deciding Point (Dick Brenneman/Bob Watts, owners) are two winning dogs that we have kept from that mating.  We hold them both in high regard.  "Cracker's" final litter of just two pups was sired by multiple champion Blast Zone.  From that litter we have kept a winning female, Power Forward (Thor Kain, owner).
Today, "Cracker" spends her days relaxing in the kennels at Bob Watts' home where she considers herself, rightfully, the queen.  She roams the acre dog pasture during the day with her daughter, Power Forward, and looks forward to getting roaded with the "youngsters" 3x a week.  She always loved to go and get to work and we still accommodate her.  Come summer there will be quail and pheasants on the farm to hunt and in the fall she'll return to the woods where her big heart has always been.