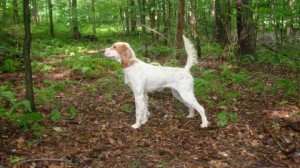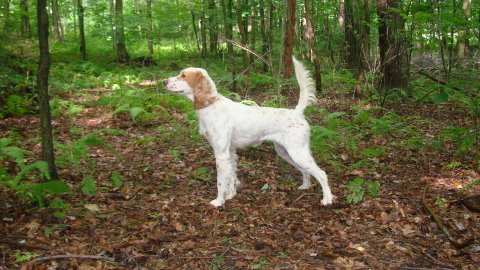 Straight Forward, our 8-year-old female, was recognized as the winner of the 2016-2017 Seminatore Award.  This Award goes to the setter who has the best winning field trial season.  This year's recognition along with wins by "Cracker" of this Award for the 2012-13 and 2015-16 season makes her the only setter in bird dog history to win this award three times.  We are very proud of "Cracker's" accomplishment.  We feel humbled to have owned such a dog.
Our entire team has played a role in "Cracker's" record setting career.  She stood out as a pup whelped and started at Bob's kennel.  Then, after her first win with Bob, Helen Brenneman took to handling her in workouts with Dick handling older bracemates.  "Cracker" showed that she had the whole package at a young age and Helen found that she handled like a dream, consistently driving and hunting objectives but conscious of where her handler was.  Later in "Cracker's" derby life Dick and pro Dave Hughes came prominently into play in training her to be steady.  Breaking
Cracker was a smooth and relatively easy affair.  Dave's HOF handling skills have shown "Cracker" to championship wins all over the cover dog hunting territory–ME, NH, NY, PA MI.
Beyond the people involved in "Cracker's" competitive life, her third win of the Seminatore shows what a dedicated worker "Cracker" is in whatever you ask her to do.  She always gives you her best effort beause she loves to go to work preparing for and going hunting for grouse and woodcock in workouts and in competition.  Our experience with "Cracker" this year is a good example of the kind of grit, determination, desire and willingness that you seldom find at these extreme levels in a dog.
In the fall of 2016 "Cracker" scored RU Champion in three consecutive cover dog championship events–the NY Grouse Championship, The New England Grouse Championship and the MI Woodcock Championship.  No dog has ever done back-to-back-to-back championship placements like this.  She followed these wins a few weeks later by claiming RU Ch. at the PA Grouse Ch.  That was it for the fall of 2016 but it was not the end of her work as "Cracker" was bred to Ch. Pennstar using frozen semen and she whelped a four pup litter in January 2017.  She recovered from this, got back in shape and scored a win at the PA Grouse Open All-Age in the spring.
This concluded "Cracker's" run at winning the Seminatore (she also won the Purina Award for top field trial grouse dog of any breed) but she wasn't done working yet.  In the summer of 2017, "Cracker" whelped two pups sired by our National Amateur Grouse Champion Blast Zone.  She was roaded and wanted to work hard at it right up until 2 days prior to the August whelping and she was back in the harness preparing for the fall 2017 season just 4 weeks after the whelp ( I just laid the harness over her as she was still too plump for the strap to fit under her).  This sounds almost cruel, but "Cracker" couldn't wait to get back to conditioning and training and put everything she had into this work.  "Cracker" managed to get to her handler, Dave Hughes, in mid-October and in her second start of the fall she scored a nice second place win in the Rich Tuttle Grouse Dog Classic!
The work of our team was critical to "Cracker" achieving her greatness as a cover dog.  However, we are all humble enough to know that  it's "Cracker" herself who needs to be elevated to the pinnacle position she has earned.  It's "Cracker's" physical abilities, skills, intelligence, knowledge and desire that have made her one of the all-time bird dog greats.