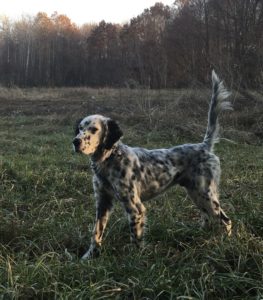 Game Winner, our young black and white male, topped a strong field of contenders in the 73rd Grand National Grouse Futurity held November 5, 2017.  "Finn" put down an impressive thirty minutes of hunting which featured his strong drive and extreme running class.  He's the kind of dog you just can't take your eyes off when he's going at his work of finding wild birds.  And connect with wild birds he did as he pointed old ruff at the 20 minute mark with high intense style.  As his handler, Dick Brenneman, approached "Finn", the grouse got up with "Finn" standing regally steady-to-wing-and-shot.  A finished piece of wild bird work.  The combination of the best hunting effort of the day and the bird work won him the recognition.
In 2015, "Finn's" breeder, Dave D'Hulster, nominated his female, Springfield's Showgirl in the Futurity at the time of mating.  He spent the money to start the futurity process and more money later to maintain the litters' eligibility because he had confidence in what was already a niche between Showgirl and the sire of the litter, Grand National Grouse Ch. Full Blast.  Previous litters of this mating had produced #1 #2 and #4 placements in the 2015 Grand National Grouse Puppy Classic as well as the #1 placement in the 2016 Grand National Grouse Puppy Classic.  At the time Dave bred Showgirl this third time to Full Blast, we asked if we could get a pup.  Dick drove out and picked out "Finn".  "Finn" spent much of his puppy development life with Bob Watts and then over the summer of 2017, "Finn" spent months with our friend, Thor Kain. "Finn's" prowess in finding wild birds and handling them with adult manners is testimony to the opportunity of wild birds at Thor's and to his dog training skills.
"Finn" has been on a field trial dominant tear recently.  In the weeks leading up to the Futurity, he won both the PA Grouse Trial Open Derby and the Venango Open Derby with Dick Brenneman at the helm.  At this point, "Finn" leads in the points accumulated for the Flanagan Award which goes to the top English setter derby for the year.