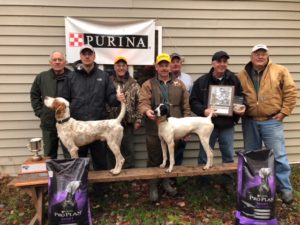 Blast Zone, our 3-year old male, won the National Amateur Grouse Championship on October 29, 2017.  Thor Kain expertly handled "Strike" to this , his first championship win.   This championship comes as a well-deserved recognition of "Strike's" becoming well-known and remarkable wild bird finding ability.  "Strike" as a puppy/derby found, pointed and was steady on wild birds of four game bird species like no dog we have owned in our combined 100 years of field trial dog development.
Grouse were scarce as 40  contenders from across the cover dog geographic spectrum gathered in the Allegheny National Forest to compete their dogs over the 7 one-hour courses.  In the 16th brace, "Strike" lit out from the start searching the nearby and distant objectives for the quarry.  Driving forward throughout, "Strike" was found ahead on point by Thor with the arresting intensity and high pointing style he consistently exhibits.  The grouse lifted quickly with "Strike" staying high and tight as the bird flew out of sight.  He continued driving hard, reaching and searching until the end.  After the thrilling find, it was clear to all that "Strike" only needed to not make a mistake as he had done enough to win at that point.  Thor could have kept "Strike" close to finish but with confidence he let him roll on out and hunt as he'd done throughout the earlier part of his hour.  "Strike" responded and went on to finish going as strong as when he'd started.  A thrilling climax to an exceptional performance.
While "Strike" is now in the string of Dave Hughes, "Strike's" early development and finishing on game is the work of Thor Kain.
Dave has added polish.