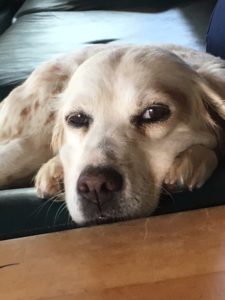 Grand National Grouse Ch. Full Tilt had an especially strong spring.   Or better stated, "Callie's" offspring scored a bunch of significant field trial wins that made her feel great as she celebrated her 13th birthday in June.  All of "Callie's" pups are now grown into shooting dog/all-age competition.
In Michigan, Snyder's Full Rage (sired by Keystone's Red Rage) scored several wins for owner Steve Snyder in grouse trials at Gladwin in good sized stakes.  "Libby" has established herself an elite bird finder in Scott and Tammy Chaffee's string.   Tom Fruchey's, Ghost Train Cody (sired by Lilley Hills Secret Stash) continued to add to his string of all-age grouse trial wins in the Michigan spring season.  Tom, along with his Dad Wayne, have done all the work in bringing "Cody" to his high competitive level.  Marty Stoker scored in one of the last trials of the season in New York with his favorite female, Full Impact (sired by Impact Player).  Again, Marty and his Dad (Gardner) have done all the work and training with her.  Topping off the list of "Callie's' winners this spring is All In (sired by Lilley Hills Secret Stash).  Thor Kain has done all the work in bringing "Chance", Thor's first field trial dog, to his zenith and that was more than enough to win the Region 2 Amateur Shooting Dog Championship!
So, life's good here in retirement says "Callie" and she's proud to have passed along genes that can win with the best.  Also, "Callie" is pretty proud of this her Facebook photo that got 45 'likes'!